These days, almost everyone seems to have a smartphone permanently hanging from her hand, and all she needs to do is quickly glance at the digital clock in the corner of the display to find out the time. But that doesn't diminish the importance and appeal of a fine luxury watch.
Many believe that a watch conveys a person's personality in a way that no other accessory can, while at the same time emphasizing her temperament and beauty. Lovely, minimalist watches and large, ornate watches can make a unique fashion statement – depending on a person's style and appearance.
Our editors have now picked the 24 best luxury watches for women. We do not rank the brands in a particular order. Feel free to choose the ones that touch you most.
How to choose the best luxury watches for women?
Of course, the accuracy of a watch that costs thousands of dollars is crucial, but it is also very much guaranteed because these timepieces are produced by some of the finest watchmakers in the world.
Therefore, the main factors to consider when choosing the best luxury watches for women are appearance, functionality, and prestige. You will notice that the prices of these luxury watches are closely related to the brand and the design, especially for timepieces with special complications or extraordinary aesthetics.
However, any one of these 24 luxury watch brands for women selected below would make an excellent addition to your collection. Now, forget about time and immerse yourself in the world of luxury as we take you through the 24 best luxury watches for women.
1. Chopard Happy Sport 33mm
(As showcased by Julia Roberts in the featured image) Chopard Happy Sport 33mm in 18kt Rose Gold, Diamond, Sapphire $37,000 SHOP NOW.
Chopard, a famous Swiss watch and luxury jewelry brand, was founded in 1860 by Louis-Ulysse Chopard in the Jura region of Switzerland. The brand is famous for high-end watches.
The style of Chopard adheres to a creative design of romance and poetry, which is fashionable and dynamic while taking into account traditional craftsmanship.
As the official partner of the Cannes Film Festival, Chopard's haute couture jewelry is always able to help celebrities become the focal point on the red carpet.
This Happy Sport 33mm is crafted from polished 18kt rose gold and finished with sparkling dancing diamonds. It's a true treasure for your collection.
A Chopard timepiece is not only a symbol of grace and delicacy but also makes the perfect timepiece to track the day with an ethereal finish.
2. Rolex Lady-Datejust 28mm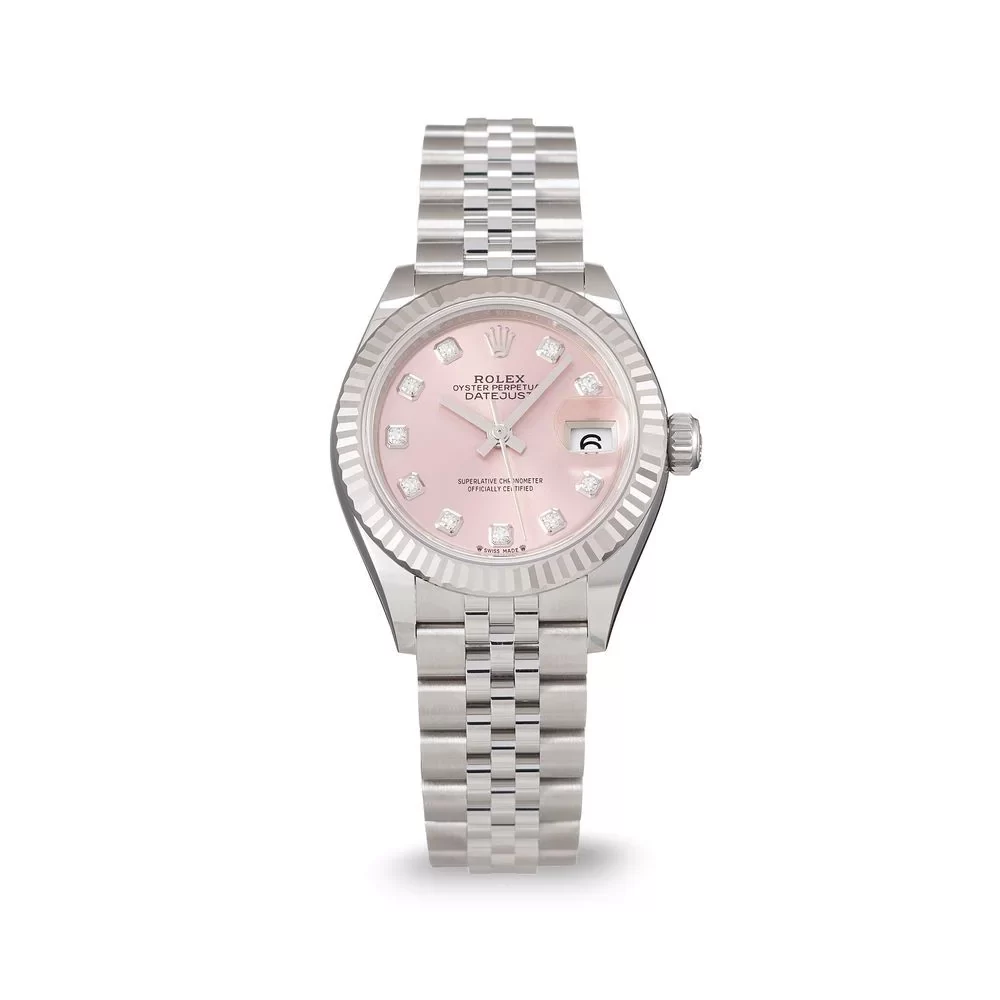 Rolex Lady-Datejust 28mm $16,062 SHOP NOW.
First presented in 1945, Rolex's iconic Datejust timepiece was the first automatic-winding watch to include a date window.
Referred to by Rolex as a "classic watch of reference", the Datejust is one of their iconic models, perfectly fusing technical watchmaking know-how with a timeless and archival appeal like this Lady-Datejust 28mm.
3. Boucheron Serpent Bohème
Boucheron 18kt yellow gold Serpent Bohème diamond watch $53,200 SHOP NOW.
Boucheron is a luxury jewelry brand of the Kering Group in France. It was founded in 1858 and has designed many precious jewelry, watches, and perfumes.
Today Boucheron has become an international brand, running boutiques in Europe, Russia, the United States, Japan, South Korea, and China.
Boucheron is also one of the few designer jewelry brands in the world that have always maintained the superb craftsmanship and traditional style of fine jewelry and watches.
This 18kt yellow gold Serpent Bohème watch echos the bohemian inspirations of the '70s. It features a mother of pearl and diamond embellished round face, a quartz movement, and a diamond embellished teardrop bracelet style strap.
4. Backes & Strauss The Piccadilly Duchess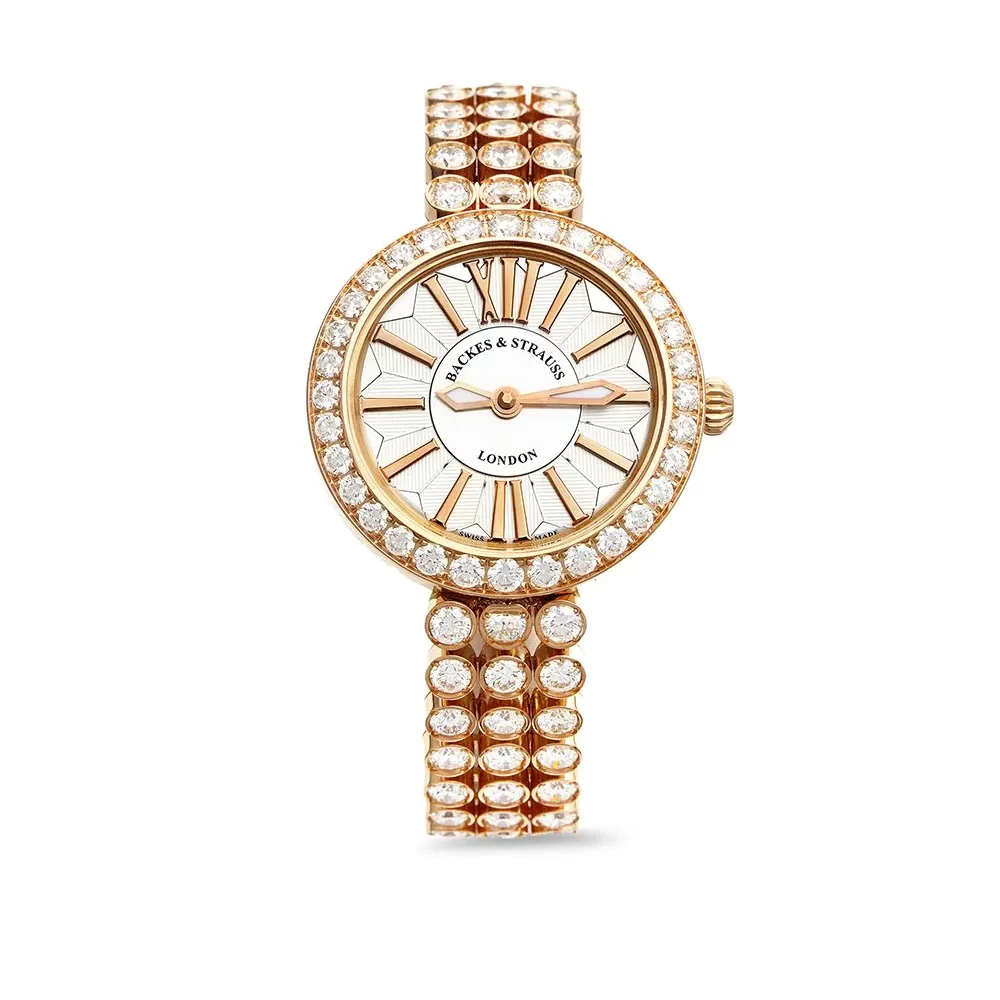 Backes & Strauss The Piccadilly Duchess watch $222,605 SHOP NOW.
Backes & Strauss has a long history. On the eve of the French Revolution in 1789, It was founded in Hanau, which was then a famous jewelry processing center in Central Europe.
The company specializes in diamonds and has been at the forefront of the diamond business throughout the twentieth century.
After a new management buyout in 2003, Backes & Strauss decided to enter the luxury watch market, seeking to combine the art of diamond cutting with the technology of watchmaking to create the finest diamond watches with sophisticated elegance.
Blurring the lines between timekeeper and jewel, this bracelet of the Duchess features links, which are individually made by hand, and every Ideal Cut diamond is meticulously set, which is a trademark of Backes & Strauss.
5. Patek Philippe Twenty-4
Patek Philippe Twenty-4 $20,495 SHOP NOW.
Born in 1999, Patek Philippe's Twenty-Four collection is a hit with modern, sophisticated, and dynamic women. This watch is so glamorous that it can be worn for all occasions, making you the definite spotlight.
The inimitable shape of the rectangular case is accentuated by two rows of diamonds. The refined dial features applied Arabic numerals, and trapeze-shaped hour markers, all in rose gold enhanced with luminescent coating.
The crown is adorned with the Calatrava cross, Patek Philippe's emblem. The precious hand-polished bracelet ensures a comfortable feel on the wrist.
6. TASAKI Comet Plus 15.2mm
TASAKI Comet Plus 15.2mm in Diamond, 18kt Rose Gold, Akoya Pearl $48,290 SHOP NOW.
Make a wish on the next shooting star you see. This 18kt Sakura gold Comet Plus 15.2mm is finished with rows of sparkling diamonds and a wrap-around bracelet of 68 Akoya pearls for an added touch. Like a dream come true.
7. Jaeger-LeCoultre Reverso Classic Duetto
Jaeger-LeCoultre Reverso Classic Duetto Stainless Steel & Diamond Reversible Watch $10,000 SHOP NOW.
This versatile timepiece features a rectangular stainless steel case that reverses from a silvered grey dial to a black dial accented by two rows of sparkling white diamonds.
8. Piaget Polo Skeleton
Piaget Polo Stainless Steel Skeleton Watch $30,100 SHOP NOW.
Piaget was founded in 1874 by Georges Edouard Piaget at just 19 years old. Since its birth, this luxury jewelry brand adheres to the spirit of "Always do better than required", incorporating superb craftsmanship and unlimited creativity into each piece of work, while giving priority to details.
Piaget captures the charm of time, and every piece of designer jewelry is a representation of superb craftsmanship. The brand currently belongs to Richemont Group.
This Piaget Polo stainless steel watch is a luxury steel timepiece with an ultra-thin skeleton movement for a modern take on an iconic watch. The blue movement is divided by applied hour-markers displaying hours, minutes, and seconds. The sapphire glass and case back reveal the refined finishing of the movement. Includes a satin-brushed bracelet and an alligator strap.
9. Cartier Ballon Bleu
Cartier Ballon Bleu De Cartier 18K Rose Gold & Stainless Steel Bracelet Watch $10,400 SHOP NOW.
The legend of Cartier began in Paris France, in 1847. It is a French designer jewelry brand of royal descent. Prince of Wales once praised Cartier as "the king's jeweler and the king of jewelers".
For hundreds of years, Cartier has created and maintained close relationships with royal families and celebrities in various countries.
Crafted of 18K rose gold and stainless steel, this Cartier watch boasts a round case, silvered guilloché dial, and Roman numeral hour markers. Made in Switzerland, it captures the storied brand's timelessly elegant aesthetic.
10. HERMÈS Galop d'Hermès
HERMÈS Galop d'Hermès Rose Gold & Diamond Watch $13,075 SHOP NOW.
Hermès is a French luxury brand founded by Thierry Hermès in 1837 in Paris, France. All of the brand's products are made with high-quality materials and the company pays great attention to craftsmanship and detail.
Features of this rose gold watch include an opaline center, grained silvered dial, 40.8 x 26 mm, and short strap in smooth ember alligator. In addition, diamond pavé adds glitter to this refined timepiece.
11. Vacheron Constantin Malte
Vacheron Constantin Malte 18K 5N Rose Gold & Alligator Strap Watch $21,100 SHOP NOW.
Bearing the name of a watch component that has become the Vacheron Constantin emblem, this collection encompasses timepieces featuring harmoniously pleasing lines.
The powerful design of the tonneau (barrel) shape sets a perfect stage for technical excellence. This slim watch features a rose gold case with a mother-of-pearl dial, finished with a luxe alligator strap.
12. Bvlgari Serpenti
Bvlgari Serpenti 35mm in Rose Gold, Sapphire Glass, Stainless Steel $15,504 SHOP NOW.
Bulgari is one of the most famous luxury jewelry brands. It is an Italian jewelry brand founded in 1884. The company is good at using colors as the essence of jewelry designs, adopting a variety of gems of different colors to mix and match, and then deploying proper base materials to highlight the dazzling colors of such gemstones.
The style of Bulgari is both bold and unique, distinguished and classic.
The brand manages to blend classical and modern features, and break through the rigorous rules of traditional academic designs.
Greek elegance, Italian Renaissance, and 19th-century metallurgical technology, Bulgari has integrated the three elements into modern arts so to become the best modern interpreter of classicism in the jewelry industry.
Snakes and serpents have been a notorious house code of Bulgari since the 1940s. Originally used as a nod to Greco-Roman heritage, the sleek figure appears throughout many collections of bracelets, and necklaces, and this 2021 unworn Serpenti 35mm for a fascinating addition.
13. OMEGA Constellation Co-Axial Master Chronometer 27mm
OMEGA Constellation Co-Axial Master Chronometer 27mm $22,207 SHOP NOW.
OMEGA's Constellation line is characterized by the signature 'Griffes', meaning 'claws' in English, that adorn the design at three and nine o'clock. Crafted from patented Sedna™ gold, this Constellation Co-Axial Master Chronometer showcases a diamond-encrusted bezel and is mounted on a 27mm case.
14. Hublot Classic Fusion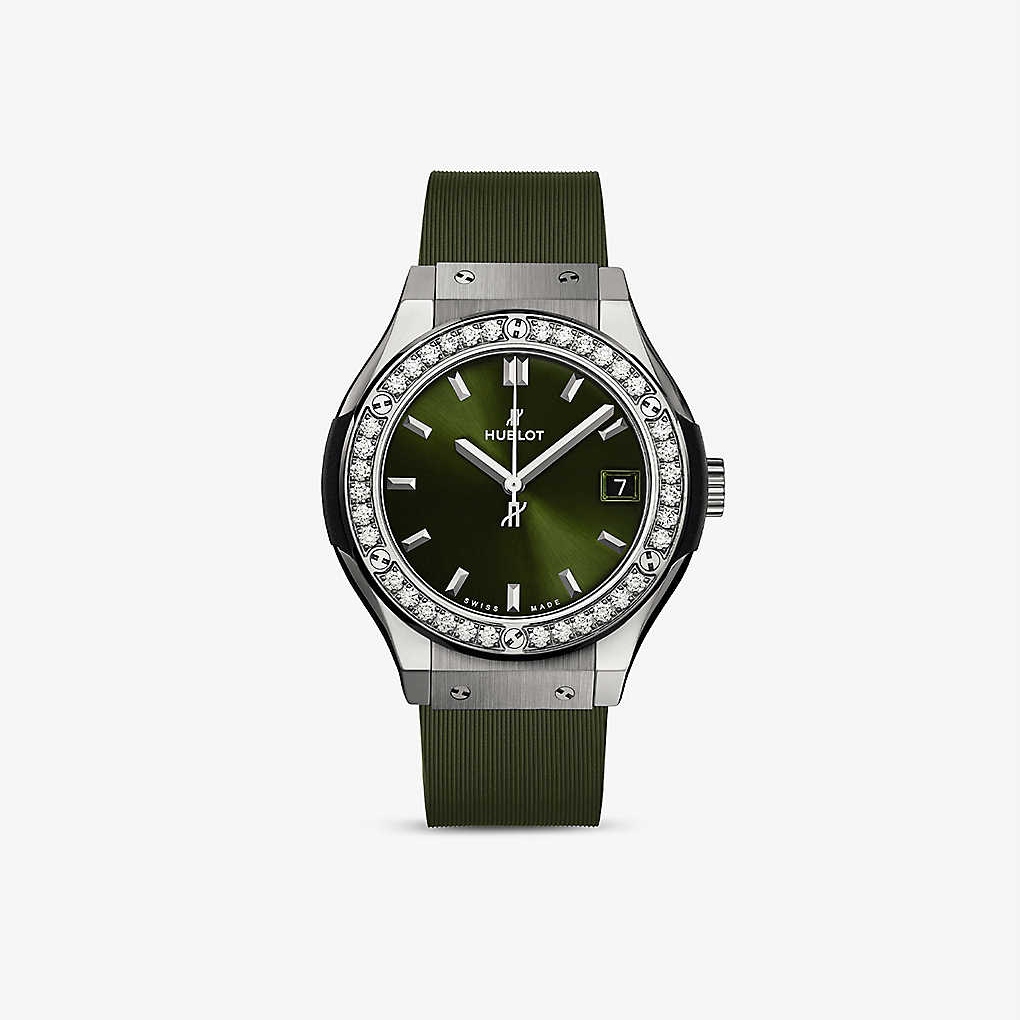 Hublot Classic Fusion titanium and diamond quartz watch $8,555 SHOP NOW.
Hublot, born in 1980, was the first top Swiss watch brand to combine precious metals and natural rubber as raw materials, creating a revolution in the world of watchmaking, both in terms of the materials used and the unique aesthetic concept interpreted by the watch.
Hublot's brand philosophy is the "art of fusion", which encompasses the perfect fusion of precious metals such as zirconium, tantalum, magnesium, and titanium with diamonds, precious stones, gold, platinum, ceramics, steel, and natural rubber.
15. Blancpain Villeret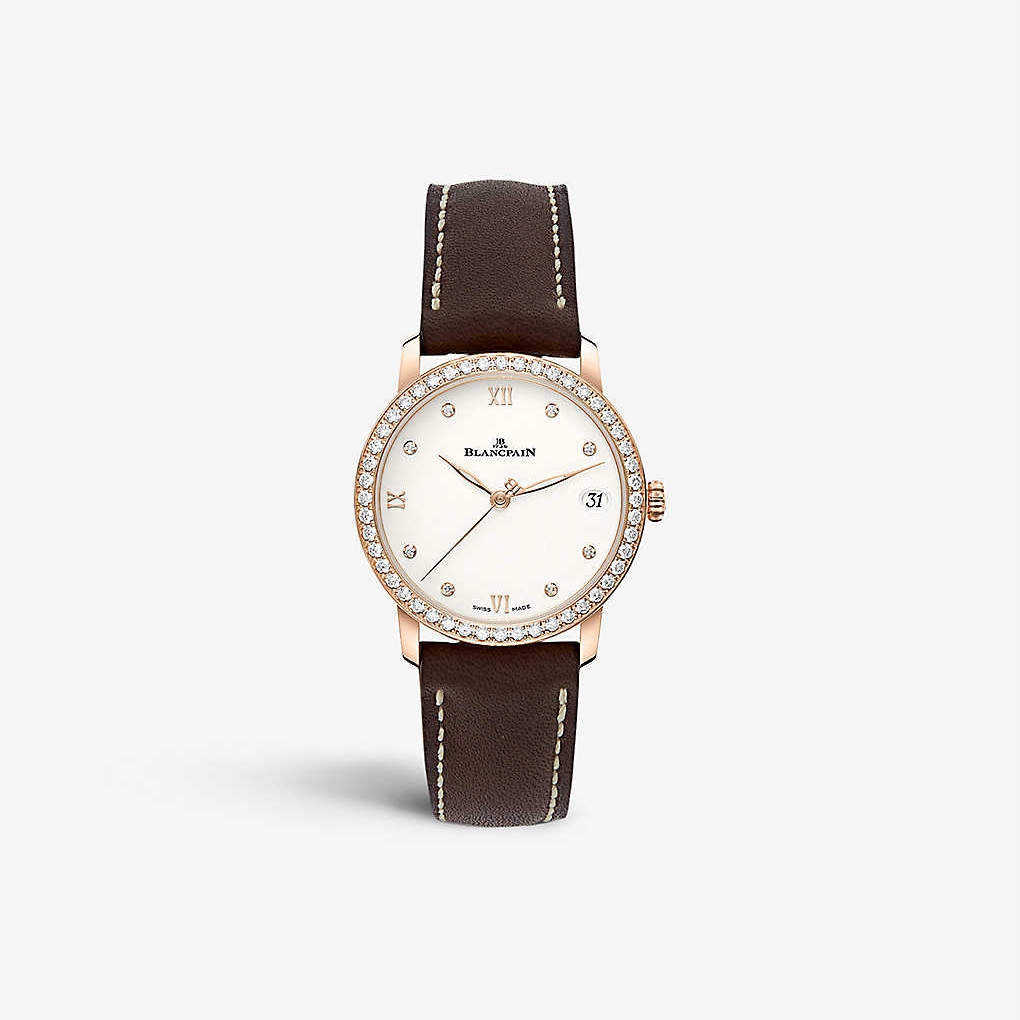 Blancpain Villeret diamond set and leather automatic watch $18,985 SHOP NOW.
Villeret is the birthplace of Blancpain and provides the inspiration for the design of its most iconic watch collection.
A case with a round double bezel, Roman numerals, and willow-shaped hands are the three main features of the Villeret. Modern and classic in appearance, this collection incorporates the recent findings of Blancpain's research in the field of movement manufacture.
16. Longines Master Collection
Longines Master Collection stainless-steel and mother-of-pearl automatic watch
$2,650 SHOP NOW.
From the very beginning, Longines has been a traditional watchmaker, producing exceptional timepieces. The Longines Master Collection is the perfect contemporary illustration of this, as demonstrated by the success of this collection since its launch in 2005.
All powered by automatic calibers, the various variations of this collection offer a wide range of sophistication. The Longines Master Collection combines classic elegance and excellence to delight of watch lovers.
17. TAG Heuer Aquaracer Quartz 27mm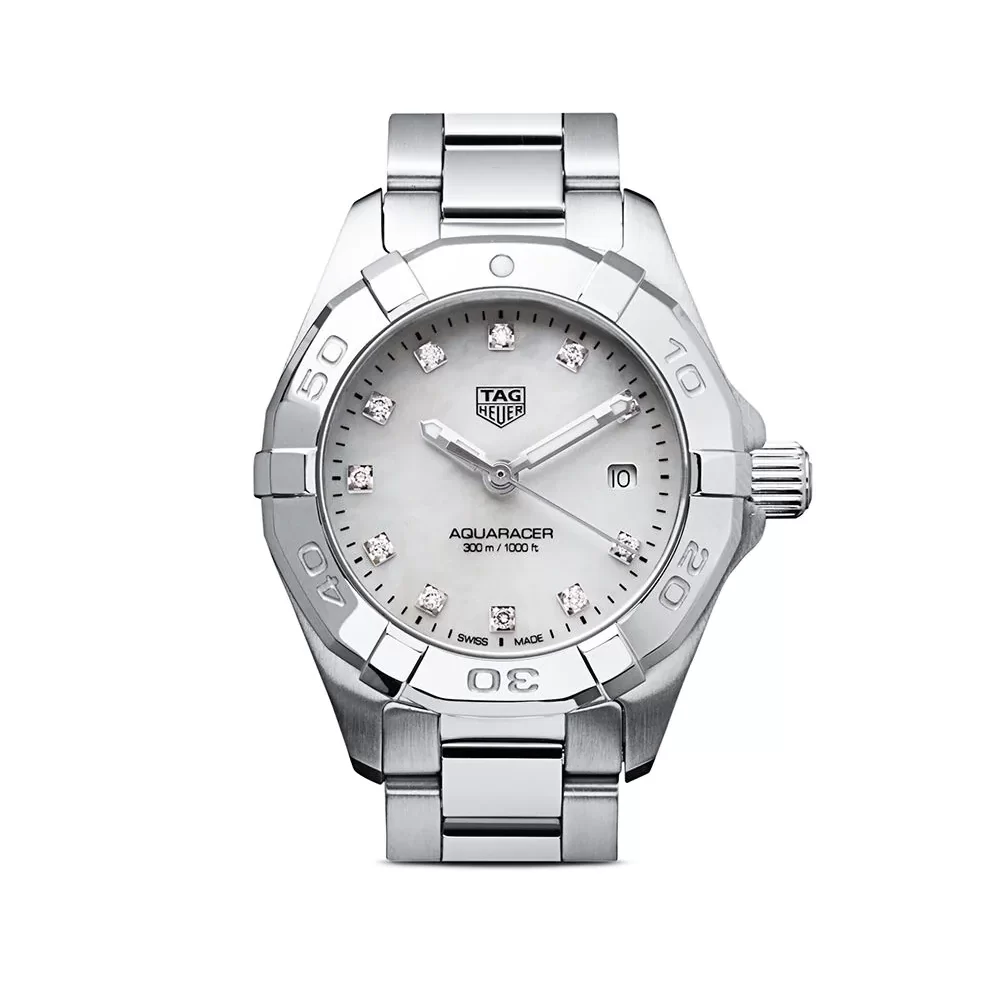 TAG Heuer Aquaracer Quartz 27mm $2,150 SHOP NOW.
The ultimate sports watch inspired by the aquatic world, this Aquaracer Collection combines diving functionality with contemporary design.
Hand-crafted in Switzerland with a stainless steel case, the Aquaracer 27mm features a white mother of pearl dial with rhodium plated polished and faceted hour and minute hands & indexes with luminescent markers, an angled date window at 3 o'clock, an anti-reflective scratch-resistant sapphire crystal & unidirectional turning bezel case, water resistant to 300mm, a TAG Heuer quartz movement and a fine-brushed and polished 3-row steel bracelet with logo engraving and a double safety push-button folding clasp with diving extension.
18. Gucci G-Timeless Feline 27mm
Gucci G-Timeless Feline 27mm $1,664 SHOP NOW.
As one of the world's leading luxury brands, Gucci is known around the world for its keen fashion sense and unparalleled Italian craftsmanship. It was founded in Florence in 1921 by Guccio Gucci, which has always been synonymous with the perfect blend of luxury and the "Italian creativity".
For nearly a century, Gucci has been known as an upscale and glamorous brand, a symbol of status and wealth, and a favorite among celebrities and fashionistas.
The G-Timeless Feline 27mm seamlessly combines a sleek stainless steel profile with the elegant cat motif as a nod to its signature House codes.
Gucci has never failed to present its rich Italian heritage through its collections of colorful and elegant designs.
19. Montblanc 1858 Geosphere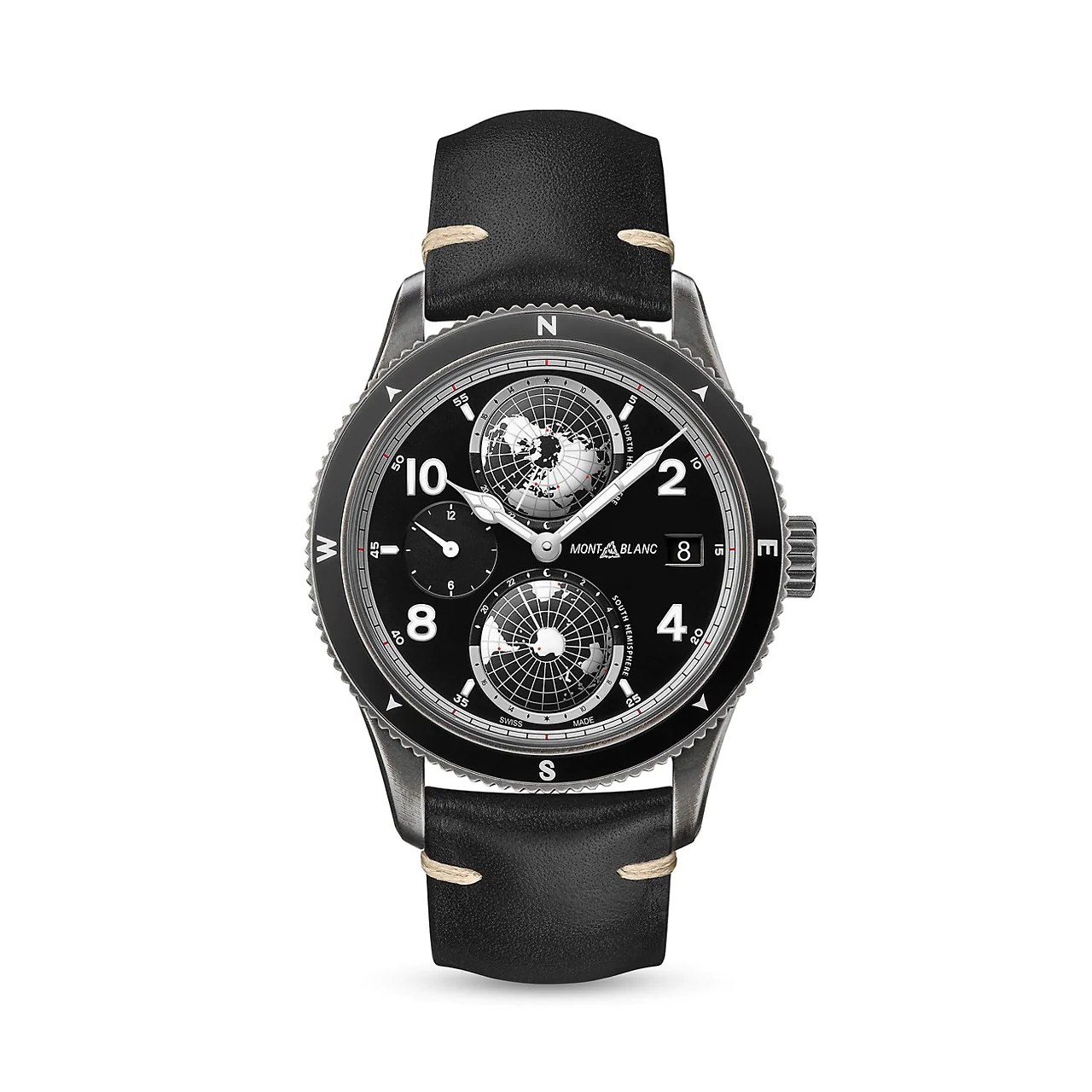 Montblanc 1858 Geosphere Stainless Steel & Leather Strap Watch $6,900 SHOP NOW.
Montblanc means the highest peak in Europe – Mont Blanc. In 1906, the brand was founded in Europe, and after a century, it developed into a diversified high-end brand, including high-grade stationery, watches, quality leather goods, men's high-quality clothing, and so on.
The Montblanc 1858 Geosphere watch comes in a 42mm case combined with white and contrasting black design details & two domed globes, turning in opposite directions, that complete a full rotation in 24 hours, all tied together by a black calf leather strap with beige stitching.
20. Fendi Forever Fendi
Fendi Forever Fendi monogram watch $1,790 SHOP NOW.
Time is the ultimate luxury – right after a Fendi watch, of course. This gold and silver-tone steel Forever Fendi monogram watch might tell you the time, but its elegance is timeless. Count down the hours until you get it makes its way to you.
Featuring a stainless steel case, a monogram pattern, a round face, a quartz movement, a buckle fastening, and 0,05 CT diamond embellishments.
21. Salvatore Ferragamo Square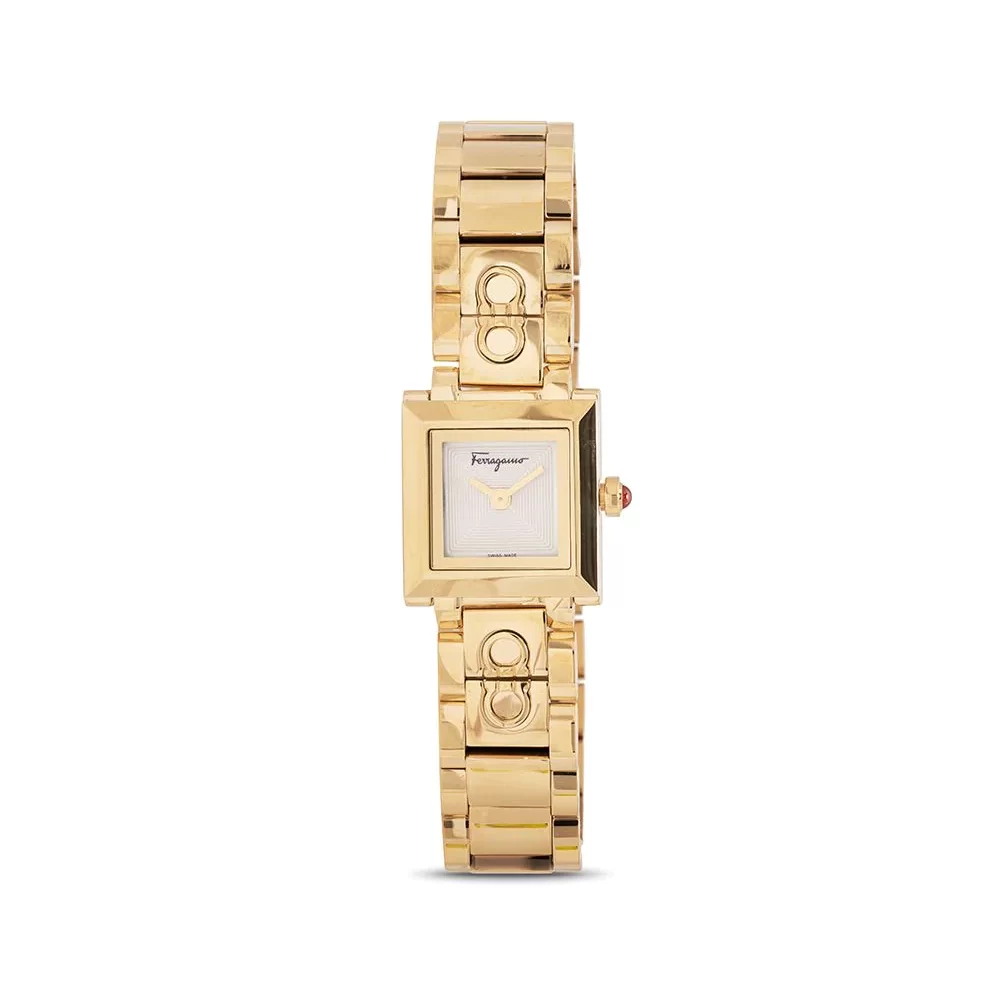 Salvatore Ferragamo Watches Square quartz 19mm $1,340 SHOP NOW.
Ferragamo is an Italian brand, born in 1927. Creativity, passion, and resilience are the Ferragamo family's core values and are passed down from generation to generation.
A Salvatore Ferragamo timepiece is a true addition to Italian excellence. Perfectly polished and ready to keep track of time, this Square quartz 19mm is powered by a quartz movement to ensure precision.
22. Versace Greca Icon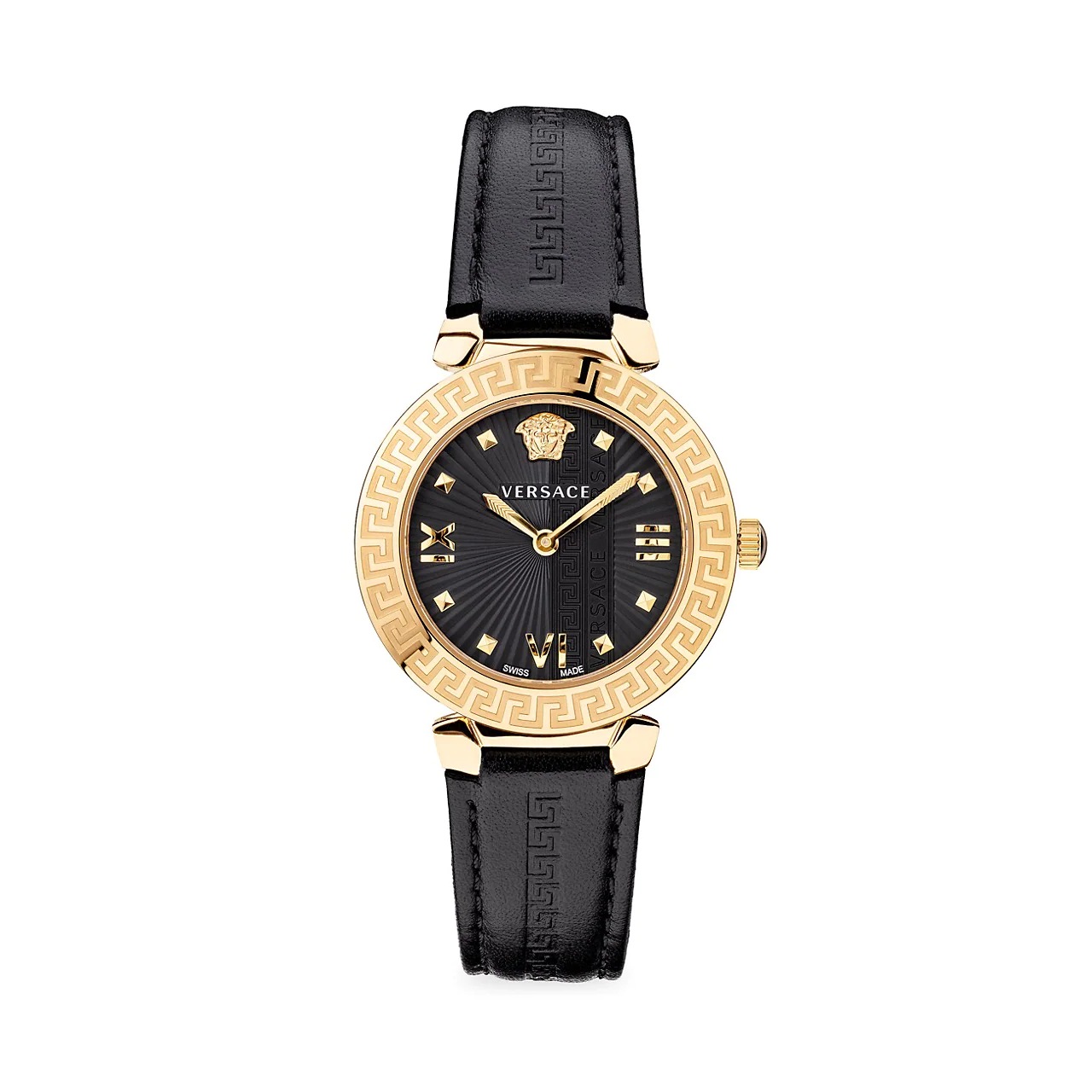 Versace Greca Icon IP Yellow Gold Leather Strap Watch $1,195 SHOP NOW.
In the Greca icon, the Greca decorates the bracelet, top ring, and dial where it leaves its light imprint. Further enriched with other details makes this watch incredibly feminine.
Are you getting tired of expensive watches? Don't worry. We have also selected two affordable luxury watches for women here. Best luxury watches don't always have to be so pricey.
23. Michael Kors Liliane
Michael Kors Liliane Rose Goldtone Stainless Steel & Crystal Bracelet Watch $275 SHOP NOW.
Made of rose goldtone stainless steel, this stunning timepiece is studded with sparkling crystals at the bezel and a grey mother-of-pearl dial.
24. COACH Harrison
COACH Harrison Stainless Steel Leather Strap Watch $295 SHOP NOW.
A timeless style with modern design, the Harrison is a casual watch with wear-everywhere versatility. This handsome stainless steel timepiece features a black lacquered dial with three subdials, marking seconds, minutes, and hours.
Finished with a black leather strap, the chronograph is detailed with a date window and a mix of numeral and stick markers.