French style: Buy these 12 items and you will nail it
Emily in Paris was one of the biggest hits on Netflix last year. The show was styled by Patricia Field, who also worked on "The Devil Wears Prada" and "Sex and the City."
However, there is a lot of controversy about Emily's French clothing style in the show, and the focus of the discussion is on what exactly is the French style.
A lot of us are obsessed with French fashion. Browse through the #Frenchstyle hashtag on Instagram and you'll know that many people want to know how to dress like a French woman, how to decorate our home like a French, and how to lead a French lifestyle.
It's just that typical French bloggers these days generally don't dress up like Emily on the show: they dress in a retro and elegant style with a casual touch, while Emily is overdoing it. So what do you need to know to emulate the iconic French style?
What exactly is the French style?
What makes the style of French women so glamorous? After all, the French rarely follow cutting-edge fashion trends.
Their clothing is minimalist yet flattering, resulting in an effortlessly glamorous aesthetic. To be detailed, they dress in a retro and elegant style with a casual touch.
In addition, as you've seen if you're familiar with French fashion, much of the success of this look comes from confidence. By simply choosing a few well-fitted, classic garments, French women are able to project an air of natural, uncontrived beauty.
That being said, if you want to be inspired by this attitude and look, it can be helpful to have a few basic pieces in your wardrobe.
The French Style: Essential Elements in Order of Importance
1. Red Lipstick
One key element of the French style is the effortless blend of classic and modern. And when carefully applied, red lipstick does just that. One especially great look, like many great French outfits, pairs minimalism with a pop of color.
For this look, combine a bare or mostly-bare face with a bright red lip. Choose a full, rich color to really get a saturated hue! Thanks to its elegance, this look can be used with casual and formal outfits alike.
2. Three Typical French Style Dresses
French women are masters of understated elegance when it comes to dresses. And if you're looking for dresses to add to your wardrobe, three classics stand out: floral dresses, wrap dresses, and slip dresses.
2.1 Floral dresses
Floral dresses are an essential element of French style, especially for more casual outings. They pair nicely with neutral-colored flats and understated jewelry. A woven straw bag is also a nice touch!
2.2 Wrap dresses
For a slightly more formal look, many French women opt for the wrap dress. Floral prints are a good choice, as are neutral colors.
2.3 Slip dresses
French women often prefer to wear a slip dress under lace or sheer dresses. One especially pretty look is wearing a black slip dress beneath a Chantilly lace dress. Try something loose-fitting with a simple black belt to accentuate your waist.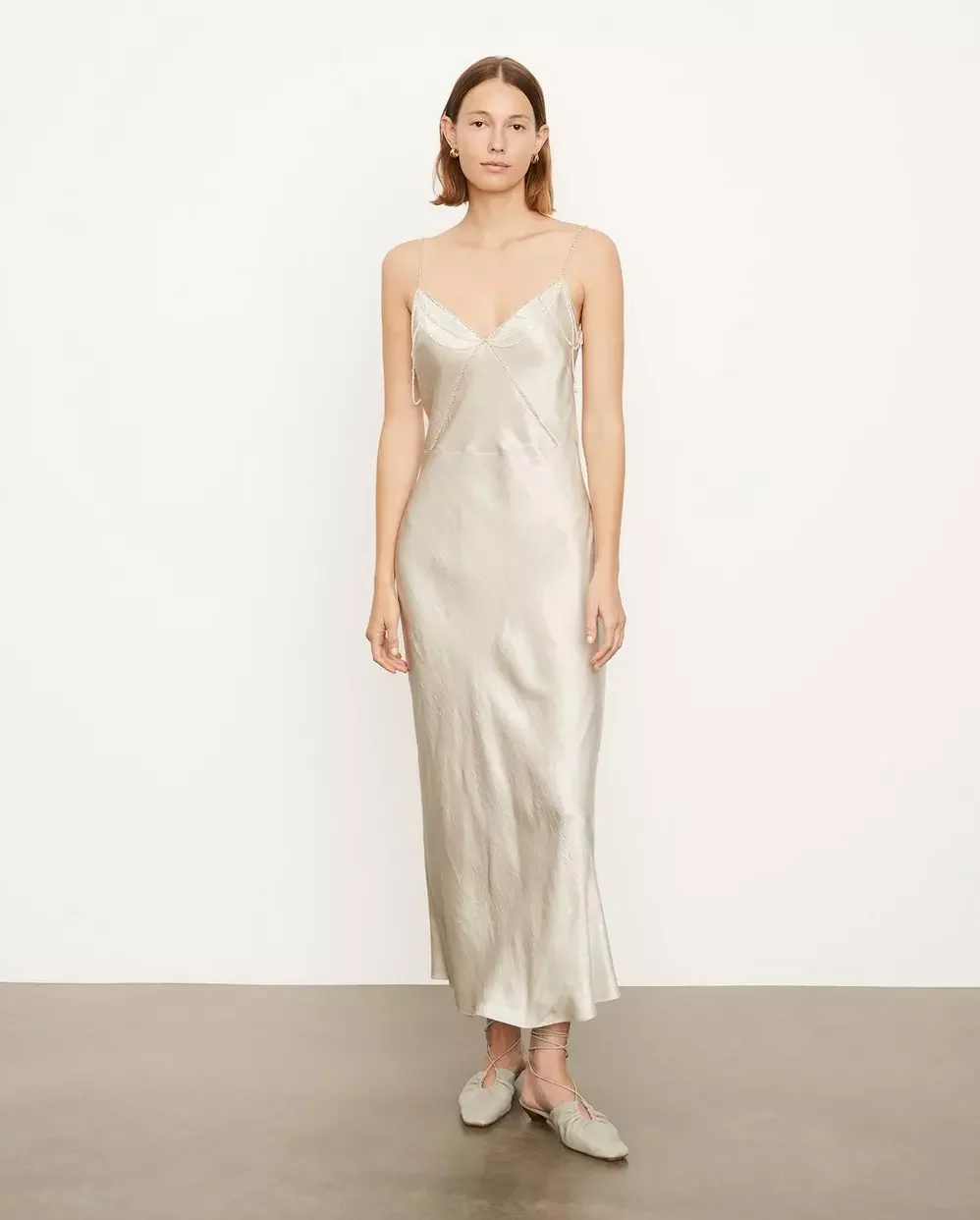 VINCE Draped Beads V-Neck Slip Dress $348, SHOP NOW.
3. The Floral Blouse
Cyrillus blouse ESPRIT TOILE DE JOUY €45, SHOP NOW.
Like floral dresses, floral blouses are a great way to channel retro French style. These blouses are an homage to Catherine Deneuve's style in the 50s and 60s. They pair nicely with neutral-colored trousers (especially black) and minimalist accessories. Let the floral print be the focus of the outfit!
You can find floral blouses at plenty of boutique stores. But if you prefer to save more when you shop, you can often find these lovely tops at thrift stores, too.
4. The White Blouse
Lots of women steer clear of the plain white blouse, fearing it may look overly formal. But white blouses (especially of the square-neck variety) are an absolute staple of French fashion.
They don't have to look formal, either! White blouses go well with casual khaki slacks, especially high-waisted ones. This look pairs well with a simple necklace or other quality, understated accessories.
PINKO short puff-sleeve blouse $158, SHOP NOW.
Of course, if you find that square-neck blouses don't flatter your figure, you can always opt for a scoop-neck or other cut that looks better on you. Remember that one of the cardinal rules of French style is choosing clothes that fit you well and look flattering!
5. High-Waisted Jeans
We've mentioned slacks a few times thus far, but there's room for jeans within the French style, too. The French wardrobe tends to be inspired by vintage looks, so high-waisted jeans are a favorite. You can make them look especially elegant with a well-fitted white shirt.
In many cases, the preferred style of jeans is straight-legged. But in more recent years, some French women have started leaning toward wide-leg, slightly-flared jeans. If you can't decide which look to try, it's a good idea to lean toward whatever look flatters your figure.
6. Flared Trousers
Flared jeans aren't the only types of pants popular with French women. For a slightly dressier look, opt for a pair of flared slacks.
Neutral colors and earth tones are wise choices here. Khaki and black are popular colors, as are olive and rust. These colors pair well with neutral tops. Some, like black, also look great alongside the floral prints that are so popular with the French.
7. Soft Cardigans
As you can likely see so far, French women are partial to jackets, coats, and blazers. So when chilly weather comes in, soft cardigans are one of the best wardrobe choices out there. They're great for layering over a blouse with slacks.
But when it comes to layers, make sure you aren't overdoing it when it comes to color. As a general rule, many French women prefer to wear no more than three colors in any one outfit. Neutral shades are a good choice, as they go well with other colors and fit into the classic, mostly-neutral French palette.
8. Blazers of Neutral Colors
Blazers of almost all types can be found in French fashion. You can even find different fits, as some French women opt for oversize blazers as statement pieces.
As is the case with many elements of French fashion, neutral colors are key here. Camel, brown, taupe, and black are common colors. But you don't have to be afraid of patterns, either: a nice plaid or houndstooth blazer can really bring an outfit together.
Especially in the fall, different fabrics can add some interest, too. It's not unusual to see corduroy, wool, and even velvet blazers. Neutrals and fall colors (like burnt orange and forest green) are great choices, and they pair nicely with neutral-colored slacks.
Sandro Queen Check Wool-Blend Blazer $272, SHOP NOW.
9. Statement Coats
We mentioned that French women often prefer to wear flattering items of clothing. But sometimes, oversize ends up being the most flattering fit.
This is especially true when it comes to the statement coat. Opt for a long, taupe or camel-colored trench coat. If you wish, add a pop of color like a bright bag or shoes. Paler is often better when it comes to these coats, as black or very dark trench coats can quickly overwhelm an outfit.
10. Mary Jane Shoes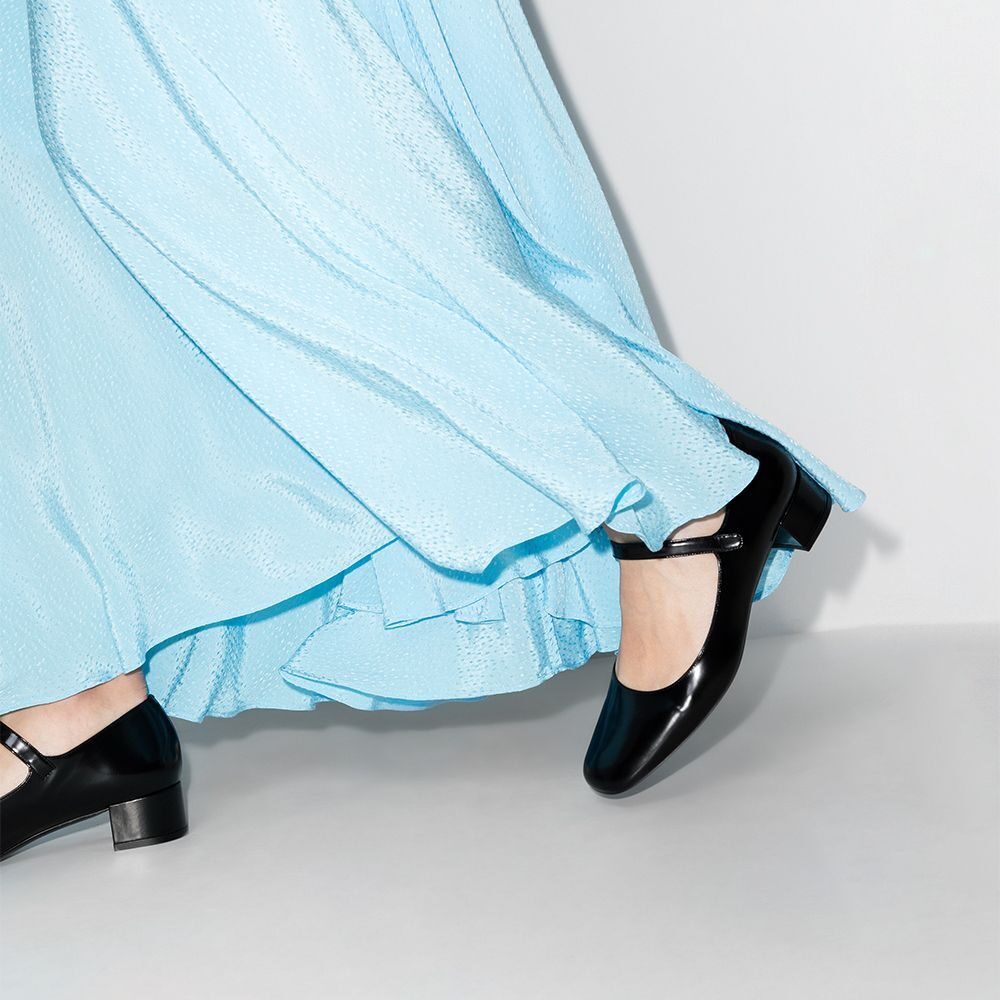 BY FAR Ginny 45mm leather Mary Jane pumps $435, SHOP NOW.
Mary Janes have enduring style and understated elegance—two key elements of French style. You can wear them with anything from jeans to dresses, making them an especially versatile addition to your closet.
Thanks to the popularity of Mary Jane shoes, there are countless designer takes on this classic. If you want to add a bright edge to a neutral outfit, sparkling or bright Mary Janes are a good choice. Some versions come with multiple straps and/or heels for a slightly dressier look.
11. Ballet Pumps or Ballerina Flats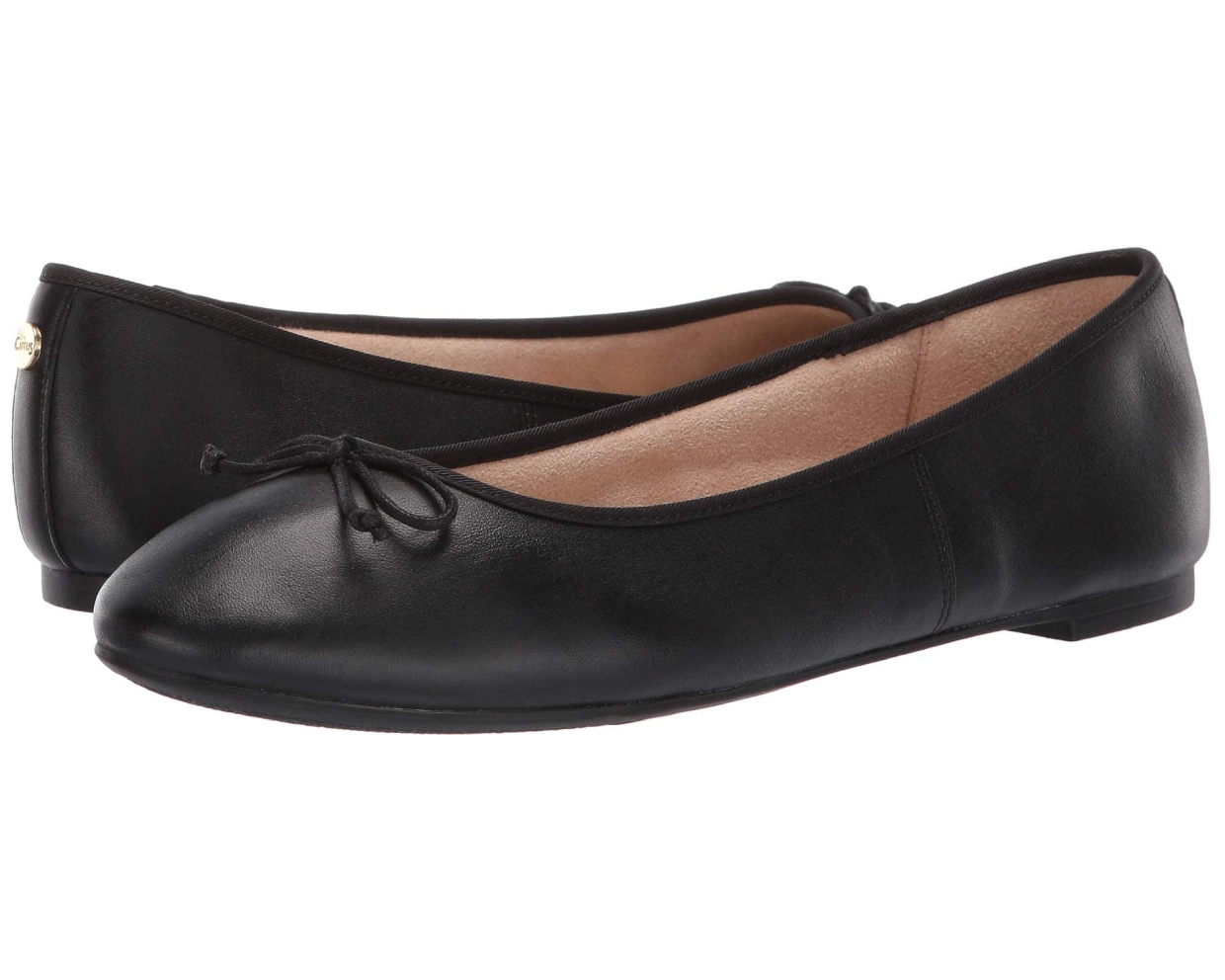 Sam Edelman ballerina flats $60, SHOP NOW.
Most French women prefer having a few well-made, versatile shoes over having a huge shoe collection. And nearly every French woman has at least a pair of ballet pumps, also called ballerina flats.
Ballerina (or ballet) flats are an especially nice look for the spring season, and they pair well with dresses or wide-leg pants. You can usually find ballerina flats in single neutral shades. But especially in spring, some people opt for slightly flashier white flats with black tips.
12. Woven Bags, Shoulder Bags, and Baguette Bags
The right bag can really pull together an outfit, and French women are experts when it comes to finding the perfect bag for a given outfit. In particular, woven bags, shoulder bags, and baguette bags are staples of French fashion.
Knotted or woven bags will add a classic touch to any look. Straw totes are a great choice for spring and summer, while earth-toned knitted bags are especially nice fall choices. Many modern French women have also said they prefer the low-maintenance look of smaller bags.
Classy, neutral-toned leather shoulder bags are a way to add just a touch of elegance to any outfit.
And lastly, smallish baguette bags are great for adding a little nostalgia to any look. They're long enough to hold all the essentials, but not so large that they become cumbersome or overwhelm an outfit.
Baguette bags come in all colors and styles but opt for an understated, neutral one if you can.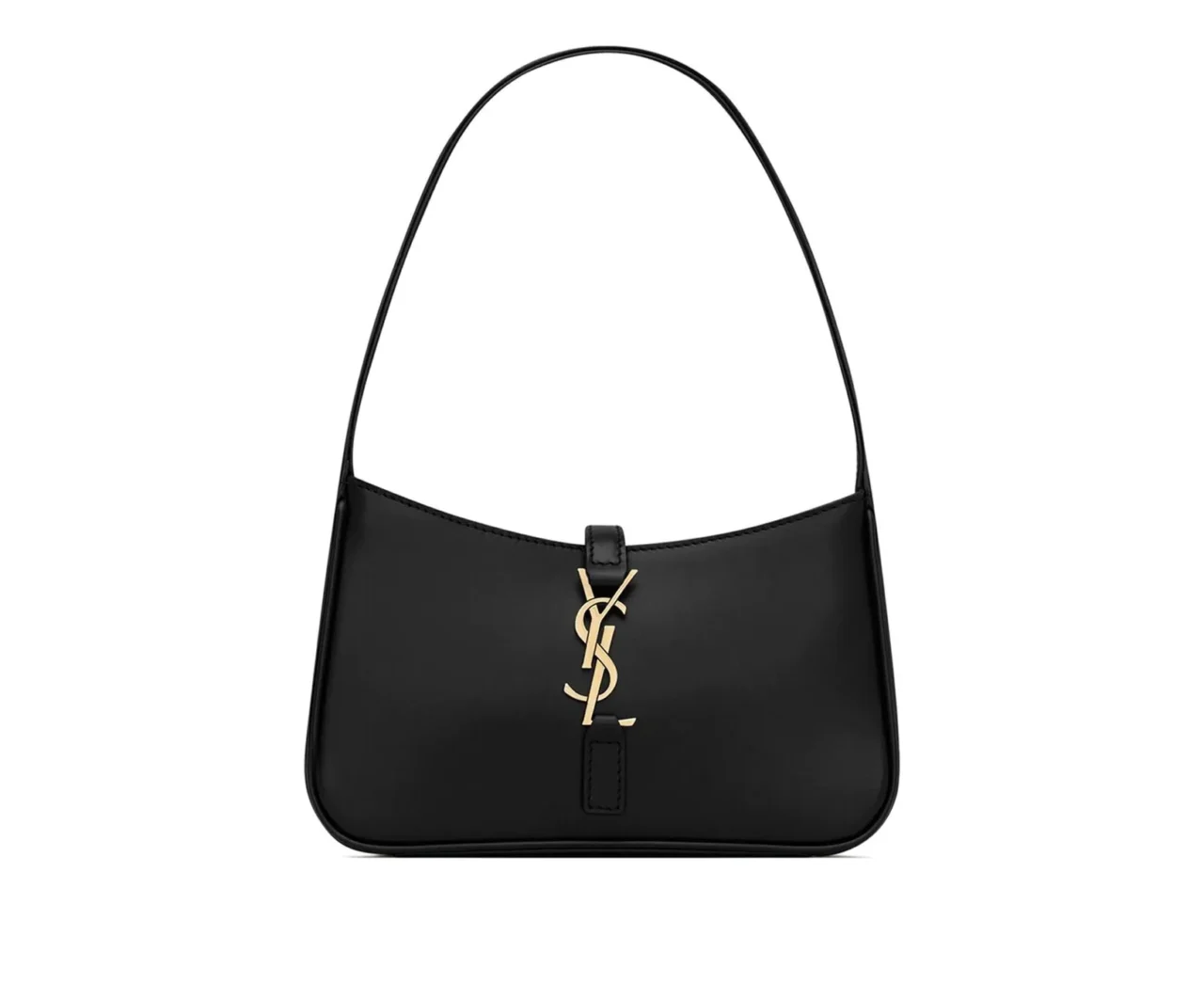 Saint Laurent mini Le 5 à 7 shoulder bag $1,490 SHOP NOW.
Conclusion
Now that we've broken down exactly what makes the distinctive French style work, we hope that you have some ideas to help you craft a new wardrobe (or effectively use the pieces you have!).
With a little knowledge and creativity, you'll be able to emulate the uniquely beautiful French style.