Claire's is an American self-expression and beauty brand, and among the many services and products the company offers are piercing services including nose piercings and ear piercings. Piercings are free if you purchase a starter kit from the company.
Does Claire's Do Nose Piercings?
Yes, Claire's offers nose piercing services including septum piercings, and it has been the go-to destination for those who want to spice up their looks. Claire's also does ear piercings.
Claire's Piercing Prices
Before you can take the next step and schedule a nose piercing appointment or visit the stall, it is essential to know the costs so you can budget yourself appropriately.
1. How Much Is a Nose Piercing at Claire's?
Normally, nose piercings at Claire's are free if you purchase a starter kit from the stall (starting at $56.99), and the price of the kit will vary depending on the kit you wish to purchase.
The starter kit includes nose piercings and an After Care Lotion that will aid in taking care of your piercing. On the other hand, additional fees will apply.
2. How Much Does It Cost to Get Ears Pierced at Claire's?
Similar to nose piercings, ear piercings at Claire's are free too if you purchase a starter kit (starting at $28.99 w/Solution). On the other hand, additional fees will apply if you want an ear cartilage piercing.
Is Claire's Nose Piercing Painful?
The common question everyone has in mind is whether nose piercing at Claire's is painful. The truth is the process can hurt, but not as much as you would expect, and if you really want one, it's worth it.
When getting a nose piercing at Claire's, you have two options: machine or needle piercing. If you opt for machine piercing, expect more pain than needle piercing.
Machines are designed to make small holes in soft skin and flesh, such as ear lobes, and if you need cartilage piercing, opt for needle piercing for less discomfort.
What Piercings Does Claires Do?
Nose piercing is first on the list, followed by ear piercings (including ear cartilage piercings), which means for your convenience, if you want these services, you don't have to look someplace else.
Each type of piercing will be done by fully trained specialists who will consult and offer you advice before the piercing.
What Is the Process?
With Claire's, no appointment is required during store hours if you need an ear piercing, so you can just walk to a nearby store at your convenient time and get the service.
However, if you wish to get cartilage or nose piercings, you must call beforehand for the services are offered in select stores.
They also offer online booking in select stores.
How Does Claire's Do Nose Piercings?
For the piercing procedure, Claire's only uses the Medisept Nose Piercing System, which is a single-use cartridge that does not come in contact with your skin at any point. So you can be sure of a safe and sterile piercing.
Does Claire's Do Nose Piercings With a Needle?
Yes, Claire's offers needle piercing, and this is the go-to choice if you want less discomfort and pain during the process.
Preparation Before Going There
It helps to avoid food or drinks that could make you nervous, like coffee. While at it, stay dehydrated, and if you have any health complications, wait until you feel better.
Also, ensure your budget is sufficient to avoid surprises down the road, and carry proper identification to confirm your age.
Claire's Nose Piercing: Age
For your protection, all piercings done at Claire's are subject to age restrictions, and if you are 13 years or below, you will need a legal guardian or parent who will sign a permission slip.
In some cases, you may be required to produce an identification document like a Driver's License, a Passport, or a Proof of Age ID Card to confirm your age.
Claire's Nose Piercing: Pros and Cons
Getting a nose piercing at Claire's is one of the most informed decisions you can make if you care about your health and want to elevate your look. And as you can see, the pros outweigh the cons. Plus, you will shop for everything you need in one place, from accessories and jewelry to hair and beauty products.
Pros
Expect an industry-leading and sterile experience.
You are serviced by well-trained employees.
They use single-use, disposable, sterilized cartridges for hygienic piercing.
Sterile experience means quick recovery and fewer risks of infections.
Cons
The nose and cartilage piercings are only available in select stores.
You have to buy a starter kit to get the piercing done.
Best Metals for Nose Piercings
One of the most important factors in the success of nose piercings is the material you choose. Here are some of the best metals for nose rings.
1. Implant-Grade Titanium
Ashley Piercing Jewelry Implant-grade titanium corkscrew nose ring with round CZ $15.9, SHOP NOW.
Titanium is an element that is completely hypoallergenic, so it's probably the best material for nose rings, especially if you have sensitive skin.
Implant-grade titanium nose jewelry is the purest form and will not change or corrode if it's exposed to skin or bodily fluids. It is durable, hypoallergic, lead-free, nickel free, and non-corrosive.
Implant-grade titanium is often marketed as ASTM F-136 titanium. Compared to ASTM F-136 titanium, G23 titanium is not an implant grade of titanium.
Price Range: About $10-$20.
Pros:
Approved by the Association of Professional Piercers
Won't cause allergic reactions
Is scratch-resistant and won't fade
Cons:
Not as valuable as gold, silver, or platinum
Doesn't sparkle quite as much as other metals
2. 14K or 18K Gold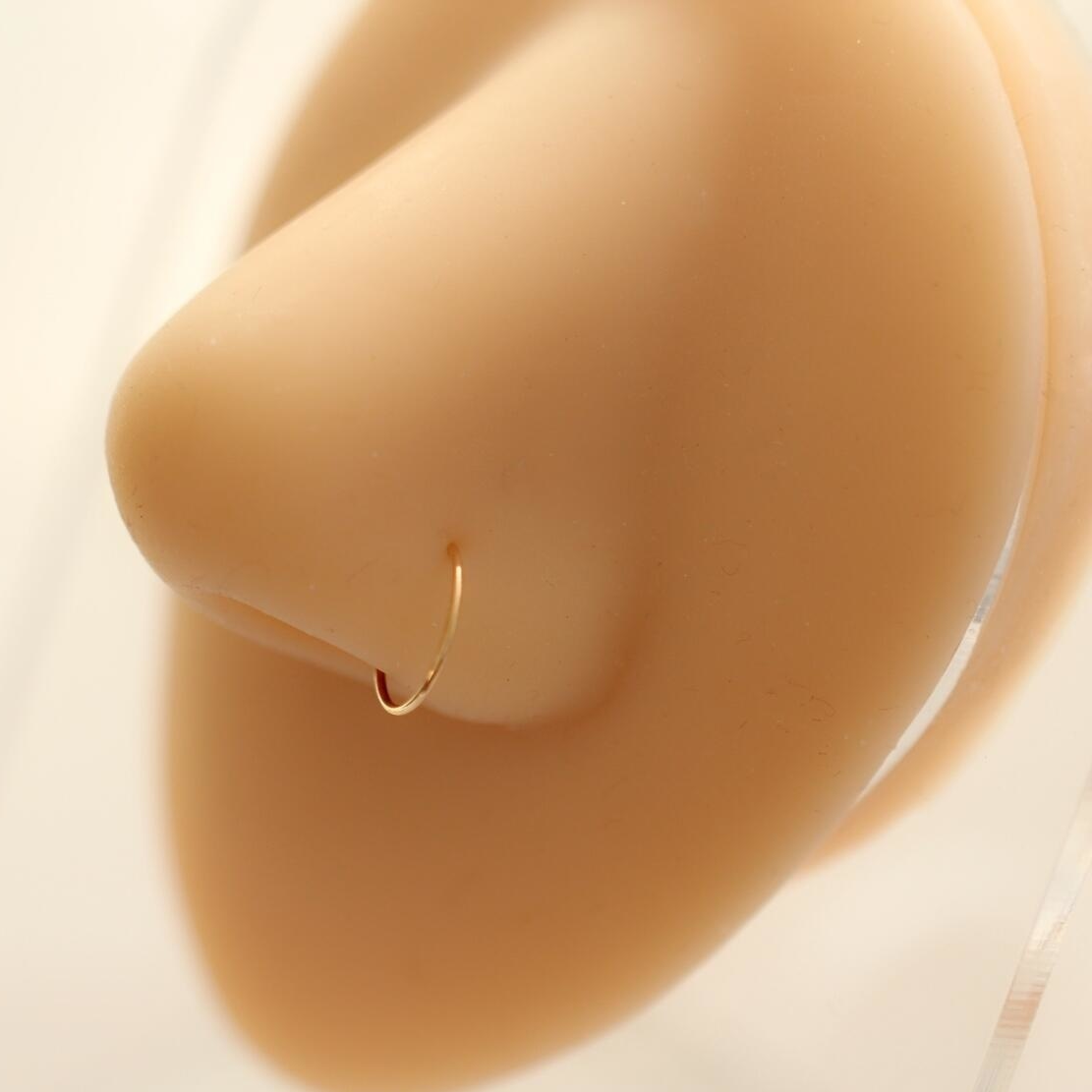 Ashley Piercing Jewelry 14K gold nose ring simple and minimalist $34.9, SHOP NOW.
If you're looking for a glittering, valuable metal for your nose jewelry, 14K or 18K gold nose jewelry may be your answer.
It is also one of the best metals for nose rings that are highly recommended not only by piercing experts but also doctors. Its excellent quality of being inert makes it suitable for first piercings.
However, gold is a fairly soft metal, so it doesn't stand up to scratches and excessive wear. Compared to 14K gold, 18K gold is more prone to being affected by everyday use as it is softer and is closer to being pure 24K gold.
Both of these metals include other metal types in order to make them stronger. In order to avoid skin reactions, look for nickel-free metals.
Price Range: About $30-$200.
Pros:
One of the most valuable materials
Will not easily tarnish
Offers plenty of sparkle
Is easy to engrave or use to set stones
Cons:
May contain non-hypoallergenic metals
18K gold in particular is not very scratch resistant
3. Surgical Stainless Steel
Lots of new piercings are done in stainless steel. This material is affordable and typically doesn't cause reactions. However, it contains a small amount of nickel, so if you have a nickel allergy, it might be best to choose something else.
It is incredibly resistant to corrosion and will keep its shine for years.
If you're considering steel, 316L or 316 LVM steel is probably your best choice. Both names stand for the same surgical steel material, but the "VM" stands for"vacuum melt," or the way the steel is produced.
Price Range: About $10-$40.
Pros:
Very affordable
Common enough that you'll have plenty of jewelry choices
Extremely durable and resistant to damage and corrosion
Cons:
May cause reactions in those with nickel allergies
Not considered as valuable as some other materials
4. Platinum
Platinum is a precious metal, so it's one of the pricier options on the list. It's completely hypoallergenic, so it's safe for even very sensitive skin. Its brilliant luster makes it a good choice for those seeking a sparkly, high-end look.
Price Range: About $40-$200.
Pros:
Hypoallergenic and non-reactive
Has a brilliant shine
Is a very valuable material
Cons:
Is a lot heavier than other metals
It's uncommon, so your jewelry choices might be limited
What To Do After a Nose Piercing?
If you want to recover quickly, you will have to make a few adjustments to your lifestyle. Always keep the pierced parts away from hair products, soap, and perfumes. You also have to adhere to a strict routine of cleaning the pierced parts with Claire's After Care Lotion.
What To Do If Concerned About Your Piercing?
It pays to know what types of risks are involved in nose piercing and how to avoid them. Most likely, after the piercing, you will experience a little discomfort, but if you have any swelling and the pain becomes worse or does not subside within 24, it is time to seek medical advice.
How to Care for Nose Piercings?
Take care to avoid contaminating the piercing.
Avoid touching it or applying makeup very close to it.
Avoid getting in the water that might be dirty.
Clean your piercing twice per day using a saline/salt solution or a piercing aftercare spray like Claire's After Care Lotion.
And of course, make sure to avoid snagging on clothes or towels.
Don't move the piercing before it heals. Pulling on a piercing early in healing is painful, but it also can get in the way of healing or damage the piercing itself.
How to Clean Nose Piercings?
Proper care is essential if you want your piercing to heal well. Generally, you should rinse the piercing with saline solution or use a special aftercare spray at least twice a day.
Make a salt solution by mixing 1/2 teaspoon of salt with one cup of water. Stir the solution until it dissolves. As an alternative, you can buy ready-to-use piercing aftercare sprays like Claire's After Care Lotion.
If you see signs of infection, you can also use antiseptic solutions, such as Betadine, isopropyl alcohol, or diluted hydrogen peroxide.
Soak a cotton ball in the solution and dab it around the piercing site. Don't remove the jewelry!
Take clean gauze or tissue and pat the area dry.
Your piercer should give you detailed instructions on keeping your piercing clean once the piercing has been placed.
Read More
What Does Nose Ring Mean Sexually?